Tendon Rupture Related to Antibiotic Use
Fluoroquinolone induced tendon ruptures are a growing concern.
A popular class of antibiotic carries a strong risk for tendonitis and myositis, and most notably tendon rupture, though many physicians and patients appear unaware or unconcerned about its use. The risk is so great that the FDA has placed a "black box" warning on all antibiotics classified as flouroquinolones . The FDA's official website contains this warning: "Fluoroquinolones are associated with an increased risk of tendinitis and tendon rupture. This risk is further increased in those over age 60, in kidney, heart, and lung transplant recipients, and with use of concomitant steroid therapy. Physicians should advise patients, at the first sign of tendon pain, swelling, or inflammation, to stop taking the fluoroquinolone, to avoid exercise and use of the affected area, and to promptly contact their doctor about changing to a non-fluoroquinolone antimicrobial drug."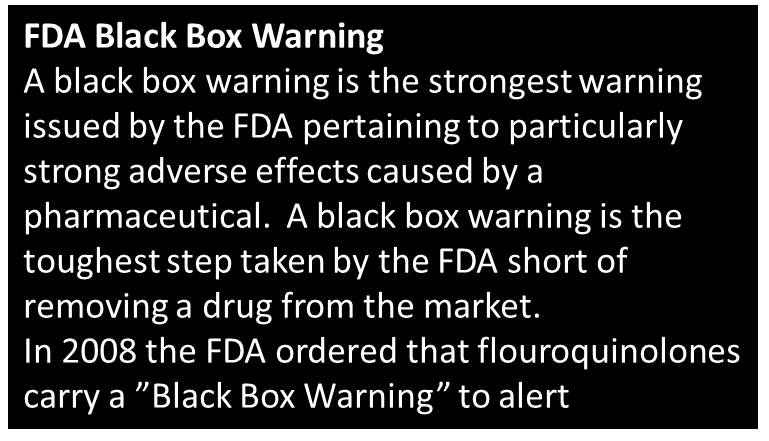 The documented risk for tendonopathy from this class of antibiotic dates back to a case report in 1983.[i] Subsequent in- vitro studies show that the introduction of ciprofloxacin to tendon tissues significantly reduced fibroblast proliferation,[ii] and created chondrocyte toxicity.[iii] (Note that in-vitro studies are not necessarily clinically relevant or are generalizable to clinical practice.) In spite of these significant risks flouroquinolones enjoy strong popularity within the medical profession due to their ability to permeate tissues and kill resistant bacterial infections. In 2001 the benefits of this class of drugs was displayed on the front page of every newspaper in the country when Cipro (ciprofloxacin) was successfully used to treat victims maliciously infected with anthrax.

Which Drugs are associated with Tendon Rupture?

These flouroquinolones are all at risk for tendonopathy (listed by commercial name with the generic name in parenthesis's) : Cipro (ciprofloxacin), Penetrex (enoxacin), Tequin (gatifloxacin), Maxaquin (lomefloxacin), Avelox (moxifloxacin), Noroxin (norfloxacin), Floxin (ofloxacin), and Levaquin (levofloxacin).

Clinical Action Steps

As clinicians we all know that all treatments should have a perceived benefit that would justify the risk of a treatment. These drugs should not be used in a patient who could be treated with a safer intervention. I feel that drugs with this degree of risk should require an informed consent signed by the patient and prescribing physician to ensure that the risk is adequately communicated. But since that is unlikely, the next best thing is to inform our patients of the risks and to tell our patients who are taking flouroquinolones to avoid exercising or strenuous activities while on this medicine. If tendonitis occurs, it should resolve within 10 weeks of ending the course of prescription.

In regard to manual treatment, I would be hesitant to use any dynamic stretching or facilitation techniques, or any myofascial release techniques in patients who are on, or have recently taken flouroquinolones, though I cannot cite a source for causal relationships between manual therapy and tendonopathy in patients taking flouroquinolones.

---

[i] Bailey RR, Kirk JA, Peddie BA. Norfloxacin induced rheumatoid disease. N Z Med J. 1983;96:590. [PubMed]

[ii] Williams RJ, Attia e, Wickiewicz TL, et al., The Effect of Ciprofloxacin On Tendon, Paratenon, and Capsular Fibroblast Metabolism Am J Sports Med May 2000 vol. 28 no. 3 364-369

Image 1. T2 weighted axial image of a patient with a left psoas rupture (seen on the right of this image) that was attributed to fluoroquinolone use. In addition to a psoas rupture this patient suffered a biceps rupture and an Achilles' tendon rupture while taking a flouroquinolone.